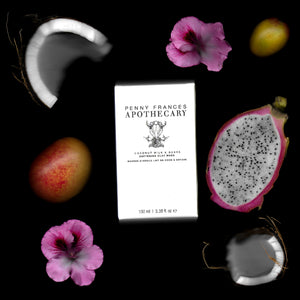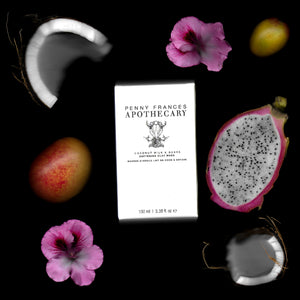 Coconut Milk & Guava Softening Clay Mask 100ml

Introducing the ultimate tropical skincare experience with our new and improved Coconut Milk and Guava Softening Clay Mask, delicately enriched with skin-smoothing juicy extracts of guava, mangosteen, pineapple, watermelon, coconut, papaya and cucumber.
Softening clays leave your complexion smooth and radiant, while botanical extracts nourish the skin with vital antioxidants. Refreshing, fragrant tropical fruits and flowers will transport you to a faraway paradise, breathing life into your skin and leaving your complexion radiant and feeling soft, smooth, and revitalized.
Perfect for a relaxing self-care session, our coconut milk & guava softening clay mask is the ultimate indulgence for your skin. 
KEY INGREDIENTS 
Guava ~ Coconut ~ Rhassoul 
Guava Fruit Extract

bursts at the seams with skin-plumping nutrients, such as potent flavonoids- beta-carotene, and skin-healing vitamins. This juicy tropical fruit extract promotes skin regeneration, fights oxidative stress, stimulates collagen, and helps fade hyperpigmentation, leaving skin refreshed, plumped, and renewed. It also has soothing, anti-inflammatory, and antibacterial properties, which support and protect the skin beautifully. 
Rhassoul Clay

is regarded as the finest clay because of its high mineral content and capacity to draw out impurities. It has natural toning and skin-loving, enriching benefits, which are transferred to your body through your skin. It is the most gentle and non-irritating of all the clays.
Watermelon Fruit Extract

  Super rich in Vitamin C, phytonutrients, and lycopene (which tones and brightens the skin and gives tomatoes, papaya, pink grapefruit, and watermelon their beautiful colors), this sublime fruit extract supports the UV-stressed immune system of the skin, helping to protect it from everyday toxins, promoting cell renewal.
Coconut Milk Powder & Water Extract:

The exquisite tropical aroma and the milky, soothing, beautifully cooling nourishment that coconuts provide are endless. Its natural fatty acids help treat dry, damaged, irritated skin and contain antibacterial properties that fight free radicals,  helping maintain flexibility and elasticity and keeping your skin fresh, firm, and plumped. 
Directions

: Use this clay mask treatment weekly for beautifully soft, rejuvenated, refreshed skin. Add a tsp of the dry mask into a bowl with a tsp of liquid of choice into a clean bowl. Try yogurt, cold-pressed juice, floral water, mineral water, raw honey, and/or coconut milk until you reach a mousse-like consistency. Apply a thin layer to cleansed skin and allow 10 mins or until the mask starts to dry ( avoid letting it completely dry). Place a warm face cloth over your face to soften the clay, and then gently rub off the mask and rinse with warm water. Refresh and tone your skin with rose geranium botanical facial mist and pat into the skin gently.
Ingredients

: Moroccan Lava (

Rhassoul), Cocos Nucifera* White Clay (Kaolin), (Coconut Milk Powder

), Cocos Nucifera Water Extract| (

Coconut Wate

r)*Maltodextrin, Kaolinite (

French Rose Clay

), Rosa Canina Flower Extract Powder* (

Rose Hip

),*Citrullus Lanatus Fruit Extract (

Watermelon

)*, Mangifera Indica Fruit Extract* (

Mango

), Rosa Centifolia Flower Powder (

Rose Petal

), Fragaria Vesca (

Strawberry

) Seed Fruit Extract*, Psidium Guajava Fruit Extract* (

Guava

), Carica Papaya Fruit Powder

(Papaya

), Ananas Comosus Fruit Powder Extract (

Pineapple

),  Garcinia Mangostana Fruit Powder Extract (

Mangosteen

), Cucumis Sativus Fruit Powder Extract (

Cucumber

)
* = Certified Organic     | = Derived from Yuca Root