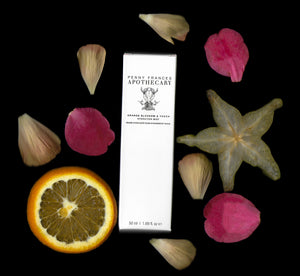 Orange Blossom & Yucca Hydration Mist 50ml
Under the golden sun and azure skies, walk with me, my love, to an exquisite field of dreams lush with wild, fragrant honeysuckle, orange blossom and citrus trees, fresh verdant herbs, and luscious succulents. Joy is this moment forever

captured

in a bottle.
A joyous tonic delicately enriched with soothing steam-distilled hydrosols and healing botanical extracts that harmoniously tone, hydrate, and refresh your skin and senses. Fragrant orange blossom, lemon, witch hazel, and honeysuckle restore vitality and bring gentle astringency. Dewy succulents contain soothing humectant properties, while a light infusion of spearmint & peppermint rejuvenates and purifies the skin.
KEY INGREDIENTS
Honeysuckle ~ Yucca ~ Orange Blossom
Orange Blossom (Neroli) hydrosol is beautifully light, refreshing, and produced in France. It's lightly fragrant, sensual, and aromatic, with beautifully citrus/green notes. 
Honeysuckle 

This beautiful wildcrafted hydrosol is distilled from the honeysuckle plant's fresh, fragrant flowers, buds, and tender young leaves and has a light, green, floral, honey-sweet aroma. It's one of the oldest medicinal herbs in history. It contains over 140 bioactive compounds that soothe, calm, brighten and rejuvenate the skin, bringing radiance to your complexion and the joy of summer to your senses—a true botanical treasure from the plant realm.
Yucca, 

The wonder of Yucca, known as the treasure from the desert, contains soothing, detoxifying, healing, and calming properties that refresh, cool, and rejuvenate the skin. The bountiful antioxidants in the plant extracts contribute to skin hydration, skin cell renewal, and regeneration and can also strengthen and cleanse the hair while calming and soothing an irritated scalp.
DIRECTIONS: For dewy moisture and hydration, shake the bottle gently to disperse the botanicals, close your eyes, and spray liberally onto your skin. Press firmly into the skin and follow with your preferred facial moisturizer. Spritz as desired throughout the day.
Mist onto the neck and décolleté to cool and soothe. Spritz throughout your hair to fragrance it for hydration and shine. Store in the refrigerator for extra skin refreshment

.
Mist for bed linen and pillows

Room Spray

Spray for Stress, Anxiety, and Relaxation

Toner for all skin types

Antibacterial 

Calming for Relaxation and De-Stressing

Store in your refrigerator to prolong its life and for a cooling, refreshing mist on a balmy summer's day. 

Spritz inside your mask 
INGREDIENTS: Hamamelis Virginiana (WITCH HAZEL) Hydrosol*>, Calendula Officinalis (CALENDULA) Hydrosol*, Citrus Aurantium Amara Flower Water (NEROLI)*, Yucca glauca (YUCCA) Hydrosol#, Aloe Barbadensis (ALOE) Hydrosol*, *Mentha spicata (SPEARMINT) Leaf Hydrosol*, Lonicera japonica (HONEYSUCKLE) Flower/Buds/Leaf Water#, Citrus Limonum (LEMON) Peel Hydrosol*, *Rosmarinus officinalis (ROSEMARY) Leaf/Flower Hydrosol*, Leuconostoc Ferment Filtrate*~(RADISH ROOT), Lactobacillus Ferment~, Mentha Piperita (PEPPERMINT) Leaf Extract, Yucca glauca Root Extract (YUCCA), Equisetum Arvense Extract (HORSETAIL), Urtica Dioica Leaf Extract (NETTLE), MELISSA OFFICINALIS LEAF EXTRACT (LEMONBALM),
CAUTION: Avoid contact with the eyes. Rinse with water to remove. Avoid use in case of known allergy to listed ingredients. Keep out of the reach of children. If rash or irritation occurs, discontinue use. For optimum potency, keep out of direct sunlight. 
This product is cruelty-free and 100% free from artificial fragrances, artificial colors, toxins, and synthetics.