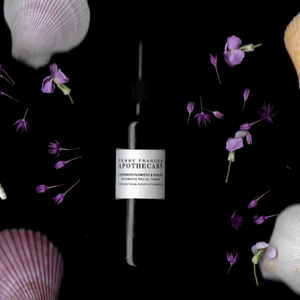 Lavender Flowers & Violet Aromatic Tonic
Lavender flowers & violet aromatic tonic is a beautifully aromatic tonic that will transport you to the Mediterranean, where the heady aromas of sun-soaked fruits, flowers, herbs, and the salty air are forever emblazoned onto your memory.
Skin-soothing botanical extracts of violet, rose, and cucumber calm and rejuvenate your skin and senses. Lavender, orange blossom, and rose flower water help heal and repair cell damage, and a light infusion of Himalayan salt helps reduce inflammation. This beautifully refreshing tonic is the first step to reawakening and refreshing oily, dull, and congested skin.
KEY INGREDIENTS 
violet ~ cucumber ~ orange blossom

 
Cucumber Distillate is made from fresh, organically grown cucumbers and has a beautiful bright, refreshing aroma. Lovely and gentle for any skin type.

Violet Extract is cooling, soothing, and mildly astringent; it helps soothe inflamed, irritated skin while gently toning, clearing, and refreshing your skin. 

Himalayan Pink Salt is derived from ancient sea salt deposits. This pretty pink-hued salt is rejuvenating, detoxifying, cooling, and cleansing. It drives out dirt and pollution from deep within our pores and forms a protective barrier helping to prevent dryness while plumping, firming, and toning the skin, leaving it fresh, glowing, and radiant.
DIRECTIONS: Spray all over your face to restore ph balance, hydrate, and refresh your skin; always apply your mist before your serum. 
Mist for bed linen and pillows

Room Spray

Spray for Stress, Anxiety, and Relaxation

Toner for all skin types

Antibacterial 

Calming for Relaxation and De-Stressing

Body Spray

Spritz inside your mask 
Store in the refrigerator for an extra cooling skin refreshment during the summer months and to help preserve your botanical tonic.
INGREDIENTS: *Lavandula Angustifolia (Lavender) Distillate, *Citrus Aurantium Amara Flower Distillate (Orange Blossom), *Cucumis Sativus (Cucumber) Distillate,

 

Lactobacillus Ferment, *Rosa Damascena

 

(Rose) Flower Water, Rosa Damascena

 

(Rose)

 

Extract, *Cucumis Sativus Fruit Extract (Cucumber), *Viola Odorata Flower Extract (Violet), *Vegetable Glycerin, Sodium Chloride (Himalayan Pink Salt). *certified organic