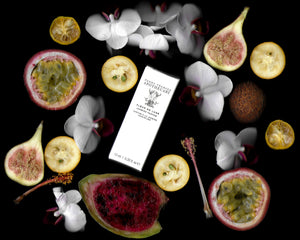 Fleur De Lune Jasmine Sambac Perfume Oil 10ml/0.34 fl oz
Beneath an ochre moon, coconut palms dance in the fragrant night air. Indulge yourself in the enchanting aroma of the tropics. 

Night flowering Jasmine perfume oil, created with Jasmine Sambac, the exotic, sensual aroma of the tropics, is gently infused in coconut and jojoba.
KEY INGREDIENTS
Jasmine Sambac ~ Coconut Pulp Co2 Extract  
Jasmine Sambac is known as 'Moonlight of the Grove' because its flowers open at twilight, releasing its intriguing, floral bouquet. It has subtle overtones that are slightly green and vaguely reminiscent of Neroli. Jasmine Sambac is alluring, sensual, and mysterious, and it is a typical example of a fragrance that must be experienced rather than described.
Aroma: Deep exotic, creamy, floral notes, rich, sweet, warm, sensual, and slightly musky back notes.
Ingredients: Jasminum Sambac (Jasmine) Absolute Extract*^, Caprylic/Capric Triglyceride# (Fractionated Coconut Oil), Simmondsia Chinensis (Jojoba) Seed Oil*  **certified Organic ^ hexane free extracted